What We Do
Altman-Hall is a full service agency staffed with experienced B2B professionals. We are vertically integrated, providing all necessary services to go to market. For more than 60 years, we have continually invested in people and technology to give our clients exceptional value for their dollar. We utilize a wide range of strategies and tactics to accomplish defined, objective-based MarCom goals.
Integrated Marketing & Media Planning
Our integrated marketing communication plans provide goals and objectives, tactics and strategies, budgets and timelines – designed to yield defined and measurable results to help our clients increase sales and gain market share.
Digital & Print Advertising
Powerful advertising must be designed to get attention and convey a message. Our client's digital and print campaigns accomplish specific goals such as lead generation and awareness/brand building.
Website Development & eCommerce
Our web design services range from "micro-sites" that complement specific advertising campaigns to complete database driven sites designed to be the hub of your overall marketing program, including fully integrated eCommerce transaction sites.
Search Marketing
SEO & PPC
Optimizing your website for high organic search rankings and complementing that with an effective Pay-Per-Click program is a key strategy to driving website traffic, improving conversion rates and generating leads and sales.
Apps, Brochures & Catalogs
Professional sales tools are key factors in making a great first impression. We develop sales literature and mobile device Apps that feature award winning design, professional photography, and technical copywriting.
Online Tools
Configurators, Animations, online catalogs…
B2B marketers often need highly specialized tools to help their customers understand and find the right product for their needs. We build custom tools to accomplish very specific and often complicated tasks.
Direct Marketing
Reaching a narrow audience is often best accomplished with direct marketing. We research and identify our client's target market and use outbound email messaging and direct mail for lead generation and brand building.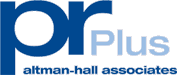 Altman-Hall has developed PRPlus, a digital-age publicity service designed to speed delivery, improve accuracy and generate greater exposure across more media outlets. From product announcements to full engineering design articles, our PR Plus program delivers results.
Trade Shows
Exhibiting properly at tradeshows and industry events is critical. Altman-Hall provides turnkey display design and production, media relations, pre-show exposure, product launches and sales lead generation and follow up.